Oct 27 2010
The WELSTech Podcast conversation this week is around fall teachers' conferences.
Listen now or download Episode 155 (58:26)
The discussion:
TeacherTech - The WELSTech semi-regular classroom technology correspondent, Gail Potratz, from Emanuel in New London, WI joins Martin and Sallie as we recap the recent Minnesota District Lutheran Teachers' Conference.  Special thanks to Jason Hahn, Beth Fischer, Heidi Horak, Kay Abts, Andrea Hahm, and Justin Krause for adding their voices to today's podcast!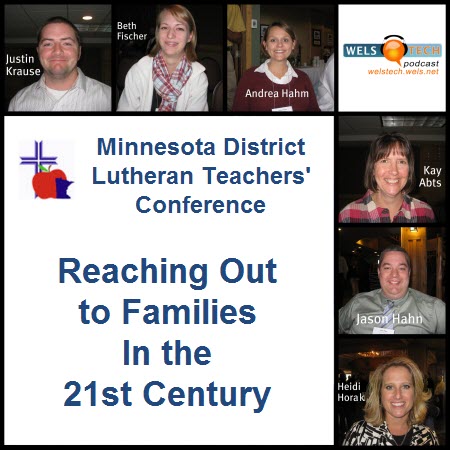 Ministry resources:
Picks of the week:
WELS.net feature:
(43:12) WELS Locator Search geo-location files – Use your GPS or Google Earth to find any WELS church or school in the US & Canada
Community feedback:
Coming up on WELSTech:
(55:20) Episode 156 - Martin and Sallie talk about St. John's, Sleepy Eye, new DIY rear projection screen and new wireless mics.  (Release date 11/03/10)
The featured artist:
(56:05) This week we feature the music of Branches Band (www.branchesband.com | Facebook) - Renew Me, O Eternal Light from their CD titled "Light Eternal"
Get involved: